Our editors handpick the products that we feature. We may earn commission from the links on this page.
28 of the Best Black Romance Movies Through the Decades
From Mahogany to Malcolm and Marie.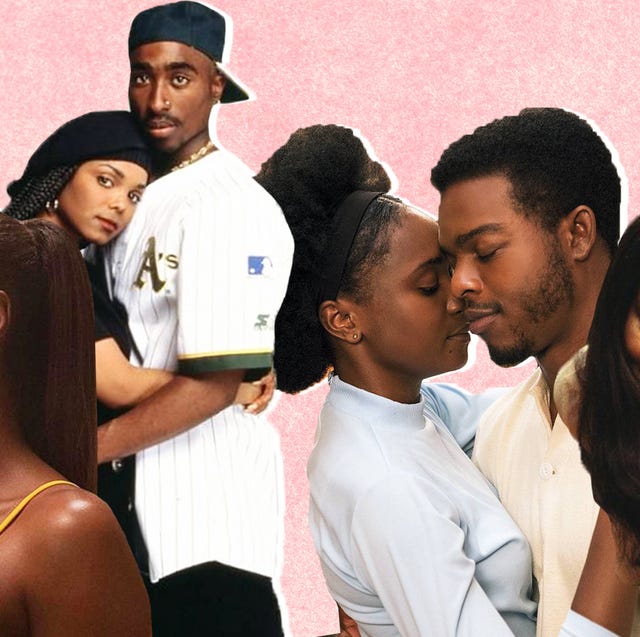 When it comes to depictions of Black stories in Hollywood, aside from the belly laughs induced by some of our most rewatched comedies, there's perhaps no other better pure, understated depiction of joy than a romance. Many pop culture savants will point to the 1990s, which is widely viewed as the sweet spot for Black romance movies. The decade gave way to essential classics like Poetic Justice and Love Jones. But years later, in a country that puts so much value on the impact of entertainment, the mainstream rom-com genre is still overwhelmed with depictions of predominantly white characters falling in love.
This exists in direct contrast to the wants of Black viewers, who have long craved an increase in depictions of complex, love-filled content when it comes to the big screen. "When you are only portraying certain people as being worthy of love, or that certain people are worthy of being centered, that is very much making an implicit political statement," says Carole V. Belle, a media, politics and identity researcher who contributed to the upcoming essay collection, Black Love Matters.
She continues, "Especially today, part of how we construct our identities and come to terms with our identities is seeing ourselves through the media and seeing media that we identify with. If you're never able to find stories that you relate to in which people share aspects of your identity or sexuality, that can be a really problematic."
Thankfully, there are creators of past and present who recognized that disparity and make room for those necessary stories. University of Chicago associate professor of cinema and media studies, Allyson Nadia Field, has long studied the history of Black cinema. In 2019, she even helped to discover film's earliest depiction of affection between two Black actors. It's a cheerful 29-second silent clip called Something Good-Negro Kiss (1898) in which the performers hold hands and share a sweet peck.
Field explains that aside from the box office films we've seen over the decades, since the 19th century little-known filmmakers have always worked in the background to depict Black love in any way they can. "We're recovering a lot of films by [directors like] Oscar Micheaux and Spencer Williams. We're getting a fuller sense of what audiences might have been exposed to, and that's really exciting," she tells Oprah Daily. "At times throughout film history, societal and structural racism kind of worked in tandem to dehumanize Black people in popular culture. That's why I think these images are so important. And for films from the silent era, to now, when you see instances of love, affection, and companionship, they do really important work to counteract these prevalent misrepresentations in popular culture."
And while there is still progress being made, why not celebrate the irresistible Black romance that exists on our screens today. TV is definitely having a moment (please checkout HBO's Love Life, Harlem on Amazon Prime, and of course, Insecure), but there's nothing like a great movie. Below, some of our favorite, from 2021's epic drama Malcolm and Marie, to seeing Diahann Carroll shine in Claudine.
This content is created and maintained by a third party, and imported onto this page to help users provide their email addresses. You may be able to find more information about this and similar content at piano.io